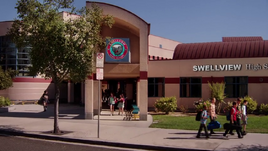 Swellview High School also known as Swellview Junior High (season 1-3) is a school in Swellview. The children and teenage characters of Henry Danger attend school there.
Classes
History
Chemistry
Biology
Algebra 2
Others
Events
Faculty
Students
Appearances
Main middle school hall
The Adventures of Kid Danger
Classroom
Gymnasium
Bathroom
Others
Trivia
Swellview High School may run a different education than most schools in the United States, especially given its former status as a junior high school.
Gallery