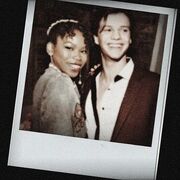 About Me
Hey! I'm Dak, and I'm an avid Chenry shipper and Riele Downs simp. Honestly, I'm crushing on the whole cast, that's kind of the deal when you're bi.
About my role in the Fandom:
I'm working on a fanfiction that is currently uploaded to Wattpad title Youth (But Complicated). The bio is as follows:
CHENRY--MILD CURSING--NO CONTENT NOT SUITABLE FOR 13+

꧁꧂
Charlotte page. Sixteen. A caffeine addict, straight A student, a horrible driver no matter how hard she tries and an avid plant mom/mom friend. She cares more about her succulents than she does her own life. It's hard not to, have you seen them? They're adorable.

Henry Hart. Sixteen. Also a caffeine addict, his grades could be better, a proud owner of a Vespa GTV 300 ABS (his pride and joy), and a deep fan of Indie Rock. Everything from the classics like Arctic Monkeys to newer bands Wallows, he can't get enough.

Oh, and one of them is an ex-superhero sidekick. But he quit a few weeks before the story after realizing his life was in shambles because of it. Charlotte quit her job soon after, deciding it wasn't worth it without Henry as her co-worker.

Honestly, now that the excitement was over, they didn't really know what to do. Working for a superhero was kind of their only defining quality. And thus, we have the story. A coming-of-age story about an ex-sidekick and his best friend as they find themselves outside of their extraodinary life.

Time to take a few steps back. Youth is fleeting, and it's about time they have the indie-kid life every teen dreams of. Sneaking out at night, staying up until caffeine can't save them, and blasting music in their friends cars as they go around their small town in suburban California.

Fuck the universe. Let's go be kings.

The story is like can be found here.
Alrighty, hope we can be friends!
-Dakkie
My favorite pages
Community content is available under
CC-BY-SA
unless otherwise noted.